Network Configuration Management for Hybrid Cloud Infrastructure
Modern configuration management for accelerating network automation across all network infrastructure.
Redefining Configuration Management Across Hybrid Cloud Networks
The increase in moving applications and infrastructure to the cloud has made enforcement of network configuration standards nearly impossible. Typical organizational structures in which network and cloud teams are working in siloes has only exacerbated the problem. In fact, 73% of enterprises have experienced security and compliance issues because of poor collaboration between the two groups. This hybrid cloud world requires a new, modern approach to drive configuration compliance of which traditional NCCM tools and automation point solutions are unable to address.
White Paper: Building Trust & Compliance for Hybrid, Multi-Cloud Networking
The Cloud Networking Configuration Complexity
Managing cloud-native network infrastructure requires networking teams to navigate multiple cloud dashboards to make simple changes in something as common as a virtual private cloud (VPC) or virtual network (VNet). As the number of VPCs, VNets, and other cloud-native services grow across multiple cloud platforms, networking teams need a way to normalize configurations across all types of infrastructure. This means equipping networking teams so they can discover and manage cloud-native network services and treat them as if they were traditional network devices, empowering teams to translate complex configurations into a simple standards-based formats.
Significant security risks created by ad-hoc cloud network deployment.
Poor application and service performance due to inefficient cloud network design. Lack of cloud network visibility, hindering troubleshooting during outages.
Cloud simplifies consumption but complicates network compliance.
Cloud services make the consumption of networking easy for customers, but because cloud applications are often managed outside of the network team, network configurations will likely not be in compliance with the company's policies and requirements.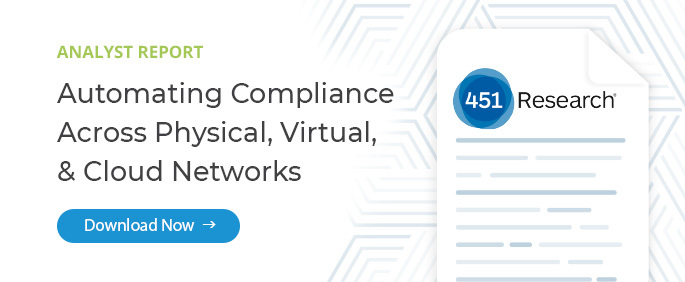 Diverse environments add complexity.
Cloud services, on-premises datacenters, and colocation have individually managed, complicated networks because each environment has its own networking features, capabilities, and management functions. Ensuring that proper network configurations are in place in such a highly diverse environment is extremely complex and difficult.
Cloud services need to be actively managed.
Cloud services continually make new networking features and services available to customers for use without having guardrails that allow IT to limit their use. The easy and rapid consumption of these services can take networks out of compliance unless they are actively managed.
Cloud networking requires network oversight.
Teams making their own decisions about network architecture could lead to disruption in connectivity and will certainly take the network out of compliance from a predefined policy. In this case, many hands make extra work to validate the overall network configuration and bring the network back to a predefined architecture.
Itential's Modern Approach to Network & Cloud Configuration Management
The Itential Automation Platform is the only product built for modern network and cloud configuration and compliance automation.
Full Network Visibility with One Application
A single application to efficiently manage device backups, inventory, and changes to CLI-based physical devices along with API-based cloud networking services across any vendor and any OS.
Flexible & Resuable Golden Configuration Templates
Dynamic and flexible Golden Configuration templates for any device and any service across network and cloud infrastructure.
Integrated Validation
Quickly create and publish self-service automations that include validating changes before they are made to ensure guardrails when automating.
Automated Remediation
Automate the remediation of devices and cloud services that are out of compliance in minutes, not hours or days.
Itential's CLI & API Configuration Automation Capabilities
Robust capabilities and use cases to support automated configuration management, ensure compliance, and mitigate manual operations.
How Itential Operationalizes Configuration Compliance Across Hybrid, Multi-Cloud Networks
In the cloud world, software development principles have evolved to build a system to develop, test, validate, and deploy new software projects. As networking migrates to a cloud model and networking technology becomes more software-driven, a way to manage this process is necessary to operationalize cloud networking. The process of validating, testing, and executing network connections needs to mimic the cloud model of request-validate-execute.
By automating validation of network connections, cloud networking systems can be tamed. The key is using software to coordinate networking elements, including both CLIs and APIs, to enable programmability. APIs are the foundation of cloud automation because they enable systems to be programmed and configured with software. Proactive and reactive compliance methods apply to both CLI- and API-based infrastructures, and both methodologies will still be required going forward. To successfully manage the transition, teams must move to a proactive approach to validation that allows automation to be implemented with more confidence.
By automating validation of network connections, cloud networking systems can be tamed. The key is using software to coordinate networking elements, including both CLIs and APIs, to enable programmability. APIs are the foundation of cloud automation because they enable systems to be programmed and configured with software. Proactive and reactive compliance methods apply to both CLI- and API-based infrastructures, and both methodologies will still be required going forward. To successfully manage the transition, teams must move to a proactive approach to validation that allows automation to be implemented with more confidence.
On-Demand Webinar: Automating Network Compliance: Introduction to Itential's API Compliance Capabilities